February 7, 2020
Posted by:

Daniel Lefstad

Category:

News
MPCI Insured:
The 2020 final harvest prices for corn, soybeans, and sunflowers were announced.  The spring price and fall harvest price for these crops are as follows: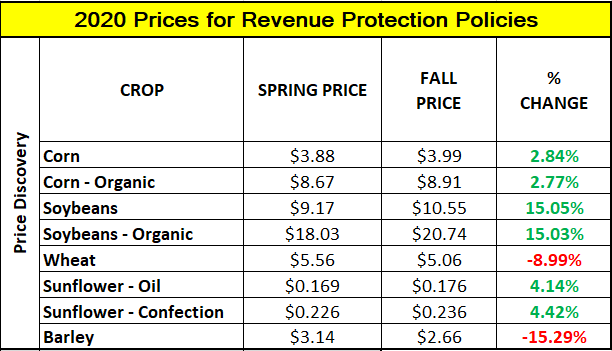 Corn, soybeans, and sunflower fall prices were higher than the spring price; therefore those of you with Revenue Protection will receive the higher fall price in the event of a loss. You will need to come in below your original bushel guarantee to trigger a loss.
Example:
Soybean APH = 40 bu./Acre
Coverage Level = 75%
Guaranteed bu./Acre = 30 bu.
Spring Rev. Guarantee =  $275 (26 x $9.17)
Fall Rev. Guarantee      =  $317 (26*$10.55)
**Due to a increase fall the above guarantee increased by $42/acre
                If you harvested 25 bushels per acre your indemnity would be 5 bu. x $10.55 = $53/Acre
If you are not sure of your APH, please give us a call at 218-935-2700 and we will help determine if you are in a loss situation.